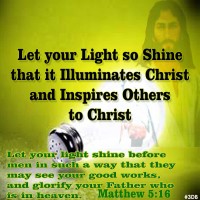 For the past few days, I have been considering an article centering on the theme, "Let your light shine." I got the idea, when I read the stats for popular blog articles. I am surprised to discover people kept coming across "Is Your Light Shining?"
After my initial surprise, I felt it time to write a new article on that theme; except, it will not talking about a certain YouTube personality.
I could do a rewrite; however, a fresh take seems best. Have you looked at the photo? The image begs the question. How do I carry out that? How do we illustrate Christ, to other people?
Here is my understanding of Matthew 5:14-16. It may or may not surprise you. How does the following sound to you? Continue reading "How Is Your Light Shining?" →